In today's fast growing ready to eat food culture, we have seen a huge growth in restaurant chains, food kiosk, eating houses, food take away units that provides various food options at competitive pricing.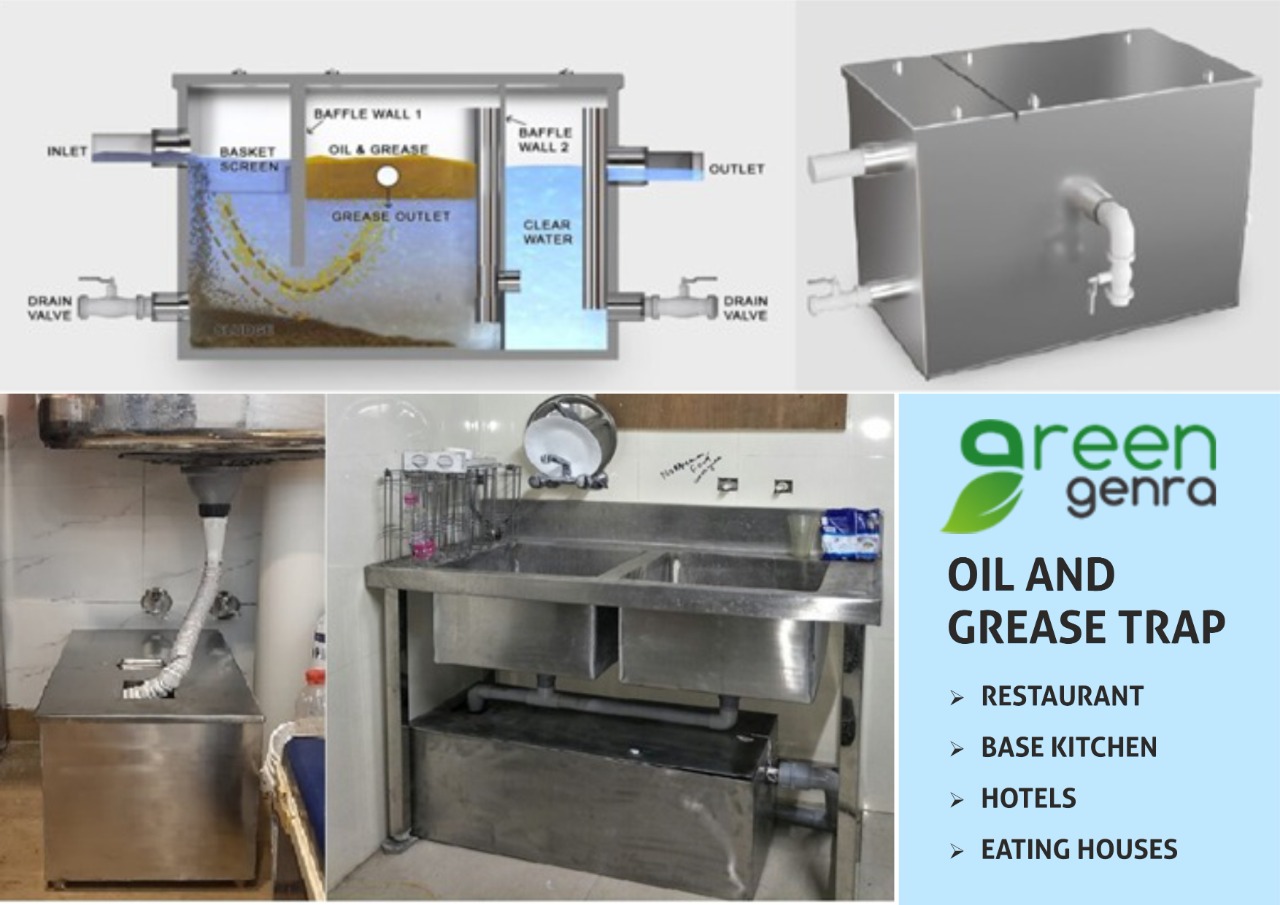 Apart from taste, food variety and pricing one thing which for sure is priority of food industry is sanitation and waste management. Different types of waste are generated from Kitchen operation like wastewater containing oil and grease, small solid particles that make their way to drainage pipes and cause them to clog often resulting in stinking kitchen, bad odours which creates an unpleasant working condition in the kitchen. If you are also a Kitchen Professional and facing such issue than we have a solution for you, " Oil and Grease Trap".
Oil and Grease trap for Kitchen waste water.
An Oil and Grease Trap also known as Grease Trap, Grease Interceptor is a tank preferably made of Stainless Steel that intakes greasy water from sink, traps oil, grease and food solids and discharges clearer water into sewer. Thus prevent sewer from Clogging. This tank is often placed under the kitchen sink in case of small and medium sized kitchen.
How Does A Grease Trap Works ?
The grease trap works on the principle that density of Oil is less than water. Components of Grease trap include Inlet Socket, Basket Screen, Grease Dispensing Valve, Drain Valve and Outlet Socket.
Water containing grease and solid particles enters through inlet socket to basket screen where the small solid particles get removed. Then oil and grease is separated in oil separating chamber and clearer water is discharged through outlet socket and is connected to drainage system.
How to clean and maintain a Grease Trap ?
A well designed grease trap is easy to clean and maintain. Basket screen is easily removable. The screen is taken out of the trap and solid food particles collected in the screen are transferred to Waste Bins.
Oil and grease gets deposited in form of layer in the grease intercepting section. This can be removed through a valve or the layer of grease can also skimmed.
Over the period of time the small suspended particles get deposited in the bottom of the tank. The drain valve provided at the bottom is used to completely drain the oil and grease tank.
What capacity of Grease Trap is suited for your Kitchen ?
The capacity or volume of a grease trap depends upon volume of waste water to be discharged and grease holding capacity of the tank. For a small kitchen, a Grease trap made of Stainless Steel 304 grade with holding capacity of 40-120 Litres is generally adequate. Whereas for a medium Kitchen serving 200-300 meals per day grease trap with capacity of 150-200 Litres would work. For bigger kitchens with more than 350 meals/day, a grease trap of holding capacity 250 Litres or more would be required.
How can Green Genra help you?
We Green Genra Technologies Pvt. Ltd. is a leading manufacturer and supplier of Commercial Oil and Grease Trap.
We offer:
Robust Design : Highly efficient in containing Oil and Grease.
Sturdy and Rust Free: Stainless Steel 304 Grade material for Rust free.
Customized Sizes and variants: We build customized sizes for both above ground and underground installation.
Satisfied Customer Base: With more than 1000 supplies at Pan India bases.
Affordable pricing, Made in India
Our Oil and Grease Trap Pricing:
Green Genra offers Grease Trap Price that is affordable. Our Grease Trap Price starts from Rs 8500 plus Taxes for our 45 Litres model. Some of our Grease Trap models:
| | | | |
| --- | --- | --- | --- |
| Model | Holding Capacity | Size | Price excluding taxes |
| GG-OGT45 | 45 Litres | 20" X 12" X 12" | Rs. 8500 |
| GG-OGT60 | 60 Litres | 24" X 14" X 12" | Rs. 10000 |
| GG-OGT100 | 100 Litres | 30" X 18" X 12" | Rs. 12500 |
| GG-OGT120 | 120Litres | 36" X 18" X 12" | Rs. 15000 |
| GG-OGT150 | 150 Litres | 36" X 18" X 14" | Rs. 17000 |
We also manufacture Grease trap of larger capacity ranging from 500 Litres, 1000 Litres, 2000 Litres and 3000 Litres for high load Kitchens such as Hotels, Base Kitchens, Canteens. These traps are generally installed underground and require customized designing. Green Genra has expertise in manufacture of varied capacity of Grease Trap for both above and Underground installation.
If you are planning a new kitchen or are facing issue regarding the disposal of waste water in your existing Kitchen, kindly visit us at https://www.greengenra.com/oil-and-grease-trap/ to check various models of Our Oil and grease trap or You can Contact us at 9650852260, 8377069760.